Deer, known for their grace and beauty, are among the most commonly recognized animals worldwide. They are part of the Cervidae family, which includes other species like elk, moose, and reindeer. However, when it comes to identifying the gender of these creatures, many people might find themselves at a loss. This article aims to shed light on one specific question: "What is a male deer called?"
Understanding the specific terminology used for different animals is more than just an exercise in vocabulary expansion. It's a crucial aspect of animal identification, particularly for those interested in wildlife studies, hunting, or simply nature enthusiasts.
Knowing the correct terms enhances our communication about these creatures, allowing us to share accurate information about their behaviors, habitats, and roles in the ecosystem.
It also fosters a deeper connection and respect for the animal kingdom. In the case of deer, distinguishing between a 'buck', 'stag', or 'doe' can provide valuable insights into the animal's life stage, behavior, and even its geographical location. So, let's delve into the fascinating world of deer and discover what a male deer is called.
What is a Male Deer Called?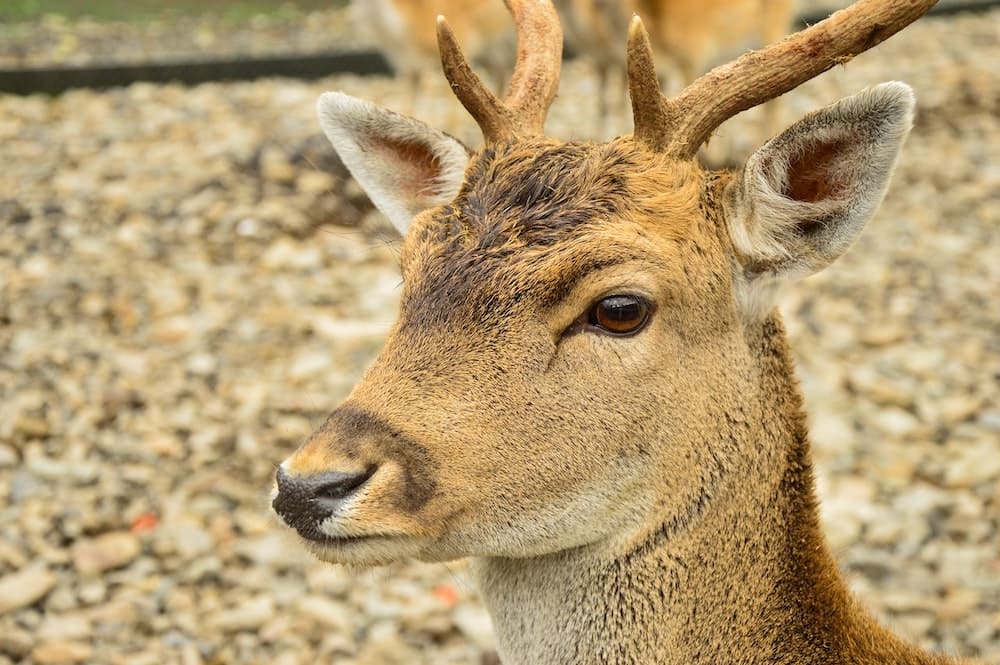 Buck
The term "buck" is widely used in North America to refer to a male deer. This term has historical roots dating back to the 18th century when deerskin was a common trading commodity.
The term "buck" was used as a quality standard for these skins, and over time, it became synonymous with the male deer itself. Today, when you hear the word "buck," it's likely referring to a male deer, particularly in hunting and wildlife contexts.
Interestingly, the term "buck" isn't exclusive to deer. It's also used to denote males in other species within the same order as deer.
For instance, male rabbits and male antelopes are also commonly referred to as "bucks." This shared terminology highlights the interconnectedness of different species within the animal kingdom.
Stag
While "buck" is a common term in North America, in other parts of the world, a male deer might be referred to as a "stag."
This term is particularly used for male red deer and Japanese deer. Stags are often associated with strength and majesty, largely due to their impressive antlers, which are typically larger and more branched out than those of bucks.
Bull and Hart
In addition to "buck" and "stag," there are other terms used to refer to male deer. For instance, "bull" is used for male wapiti and reindeer, particularly in America. This term is also used for male individuals in other large species like elephants and moose.
Another term, "hart," is used specifically for male red deer. These varied terms reflect the diversity within the deer family and the different contexts in which these animals exist.
Understanding the Term "Buck"
Usage Beyond Referring to Deer
The term "buck" has a broader usage beyond just referring to male deer. In the United States, it's also a colloquial term for the dollar bill or the currency itself.
This dual usage might seem unrelated at first glance, but there's an intriguing historical connection between deer and dollars, which brings us to our next point.
Relationship Between Dollars and Deer
The relationship between dollars and deer dates back to the early 18th century. During this time, deerskin was a common medium of exchange in trade, especially in the fur trade.
The term "buck" was used to denote a certain standard of quality for these skins. Not all skins were accepted as equals; the quality of the deerskin determined its value.
Over time, the term "buck" transitioned from representing a standard of deerskin quality to symbolising the currency itself.
Historical Value of Deerskin
Deerskin held significant value in the past, particularly for the indigenous people of North America. It was used to create jackets to protect against harsh weather conditions and served as a form of camouflage for hunters.
The skin of a buck, also known as buckskin, was particularly prized. This historical usage underscores the importance of deer in human societies, not just as wildlife but also as a valuable resource.
Other Terms Related to Male Deer
Venison: Deer as Food
Venison is a term that refers to the meat of a deer. It's a lean, high-protein source of meat that's lower in fat than beef.
Venison can be prepared in various ways, including roasting, grilling, and stewing. It's a popular choice among hunters and those who appreciate its unique, gamey flavor.
Fawn: Young Male Deer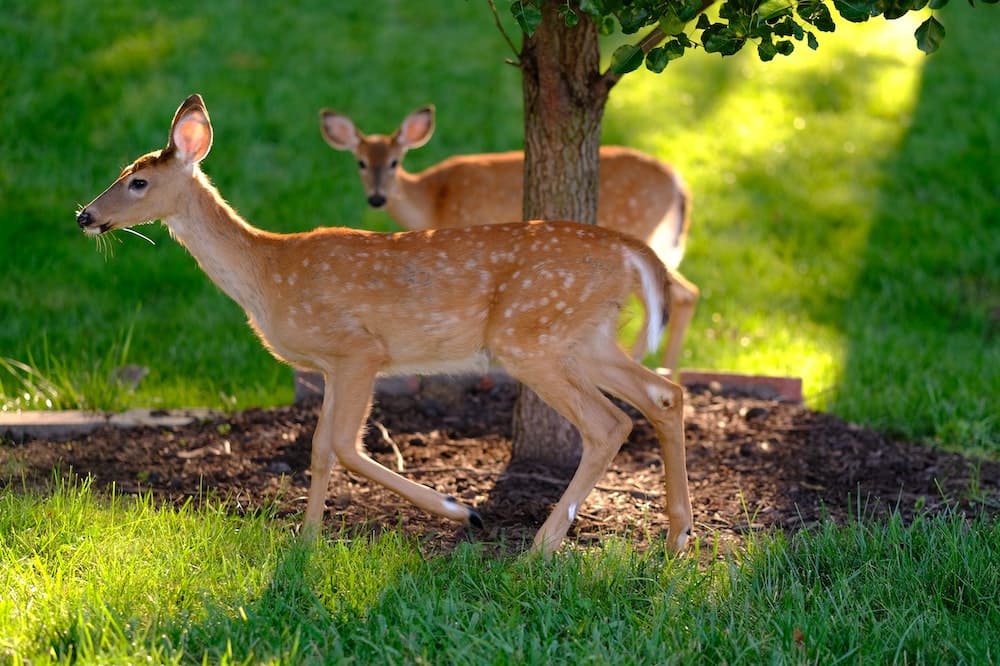 A fawn is a term used to describe a young deer, typically from birth until it reaches a year old. Fawns are known for their spotted coats, which provide camouflage and protection from predators.
These spots fade as the fawn matures. Fawns are usually seen with their mothers, or does, for the first few months of their lives.
Doe: Female Deer
A doe is the term used to describe a female deer. Does are generally smaller than bucks and lack antlers, with the exception of female reindeer.
They play a crucial role in the deer population as they are responsible for raising the fawns. During the spring and summer months, does can often be seen with their fawns, teaching them how to forage and navigate their environment.
Elk: Another Member of the Chordata Phylum
Elk are large members of the deer family, native to North America and Eastern Asia. They are larger than deer, with males (known as bulls) reaching up to 700 pounds.
Like deer, male elk have antlers, which they shed and regrow each year. Despite their size, elk are agile creatures, capable of running at high speeds and navigating steep mountainous terrain.
Hart: Synonym for Stag
The term "hart" is another name for a stag, specifically a red deer stag that is over five years old.
This term is less commonly used today but can still be found in historical literature and older wildlife references. It's a testament to the rich language and diverse terminology associated with deer and their relatives.
Physical Characteristics of Male Deer
Presence of Antlers in Male Deer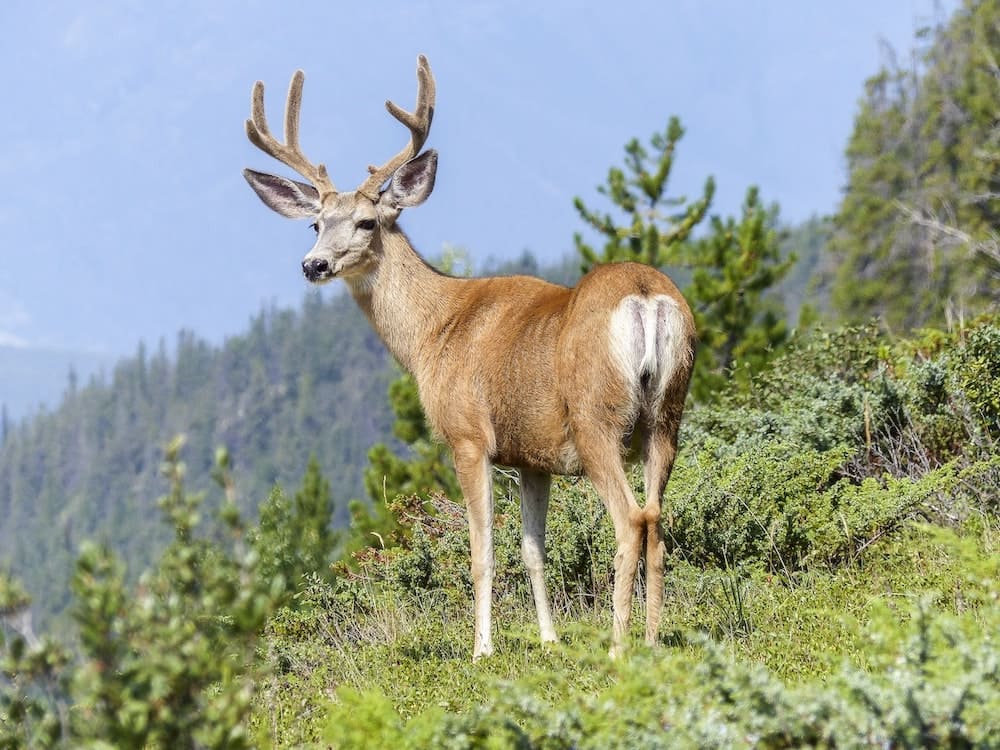 One of the most striking physical characteristics of male deer, or bucks, is the presence of antlers. These impressive structures are not just for show; they play a crucial role in the deer's life.
Antlers are used in battles for dominance and mating rights. They grow in such a way that two antlers can lock into place, allowing bucks to wrestle without injuring their faces. The size and complexity of a buck's antlers often indicate its age, health, and status within the herd.
Differences in Physical Attributes Between Bucks and Does
Bucks and Does (female deer) have distinct physical differences. Besides the presence of antlers in bucks, males are generally larger and heavier than females.
Their necks thicken during the rut (mating season), and their bodies are more muscular. On the other hand, does are smaller and have a more streamlined body shape.
They also lack antlers, except for the female reindeer, which is a unique exception in the deer family.
How to Distinguish Bucks from Does
Distinguishing bucks from does can be straightforward if you know what to look for. The most obvious difference is the presence of antlers in bucks. However, during certain times of the year, bucks shed their antlers, making it a bit trickier to identify them.
In such cases, size and body shape can be helpful indicators. Bucks are larger with a more robust body structure, while does are smaller with a more slender build.
Additionally, behavioural differences can also provide clues. For instance, bucks are often more solitary or move in small male groups, while does are usually seen with fawns or in larger mixed groups.
Deer Hunting
Importance of Distinguishing Between Bucks and Does
In the context of deer hunting, being able to distinguish between bucks and does is crucial. Many hunting regulations specify whether hunters can target bucks, does, or both, often varying by season and location.
Moreover, understanding the behavioural differences between bucks and does can improve hunting strategies.
For instance, bucks are typically more solitary and may exhibit more predictable patterns during the rut, making them a primary target for many hunters.
Regulations and Practices in the United States
In the United States, deer hunting regulations vary by state, including specific seasons for hunting bucks and does, bag limits, and permitted hunting methods.
Some states have "buck only" seasons, while others allow for the hunting of both bucks and does. It's essential for hunters to familiarize themselves with these regulations to ensure ethical and legal hunting practices.
Additionally, many states have programs in place to manage deer populations and maintain a healthy balance in the ecosystem.
Differences Between Mule Deer and White-Tailed Deer
Mule deer and white-tailed deer are two common species hunted in the United States, each with unique characteristics. Mule deer, named for their large, mule-like ears, are typically larger and have a black-tipped tail.
Their antlers fork evenly as they grow. On the other hand, white-tailed deer are smaller, with a tail that's brown on top and white underneath. Their antlers grow in a pattern where the main beam extends with points projecting off it.
Understanding these differences can help hunters identify their target accurately and adhere to species-specific hunting regulations.
Other Species Related to Deer
The deer family, also known as Cervidae, is a diverse group that includes more than just the common deer we're familiar with. This family also includes other species like reindeers, elks, antelopes, mouflons, and gazelles.
Reindeers, also known as caribou in North America, are found in Arctic and Subarctic regions. They are well-known for their impressive antlers, which are present in both males (bulls) and females (cows).
Elks, also known as wapiti, are one of the largest species within the deer family. They are native to North America and Eastern Asia. Male elks are called bulls and females are called cows.
Antelopes, while not technically part of the deer family, share some similarities with deer. They belong to the Bovidae family and are native to Africa and Asia. Male antelopes are often called bucks, while females are called does.
Mouflons are a type of wild sheep, native to the mountainous regions of Iraq and Iran. Males are called rams and females are called ewes.
Gazelles are known for their speed and agility. They are part of the Bovidae family, like antelopes. Male gazelles are called bucks, and females are called does.
Just like with deer, different terms are used to refer to males and females of these species. For reindeers and elks, males are called bulls and females are called cows.
In the case of antelopes and gazelles, males are often referred to as bucks and females as does, similar to deer. For mouflons, males are called rams and females are ewes.
Frequently Asked Questions on What Is A Male Deer Called
1. What is a Group of Male Bucks Called?
A group of male deer, or bucks, is often referred to as a "bachelor group" or a "bachelor herd." These groups typically form outside of the mating season and consist of males of various ages.
2. What's a Small Male Deer Called?
A small male deer is still referred to as a buck. However, if it's very young and still with its mother, it might be called a "fawn" until it reaches a certain age or size.
3. Are Does Easier to Hunt Than Bucks?
The ease of hunting does versus bucks can depend on various factors, including the time of year, local hunting regulations, and the specific behaviors of the deer in the area. During certain times of the year, bucks may be more predictable due to patterns associated with the rut, making them easier to locate. However, does tend to travel in larger groups, which could increase the chances of spotting them.
4. What Time of Day are Most Bucks Killed?
Most bucks are killed during the early morning and late afternoon hours. These are the times when deer are most active, often referred to as "crepuscular" activity patterns. During these hours, bucks are typically out feeding and are more likely to come within range of hunters.
5. Does a Doe or Buck Taste Better?
The taste of venison can vary based on several factors, including the deer's diet, age, and the time of year it was harvested. Some hunters believe that younger deer, including both bucks and does, tend to have a milder flavor than older deer. However, others maintain that there's no significant difference in taste between a doe and a buck. Ultimately, the preparation and cooking method can also greatly influence the taste of the venison.
Read More About Deer: