As a loving dog owner, ensuring your furry companion's health and happiness is always a top priority. But did you know that dogs, just like humans, can suffer from acne? In this informative blog post, we will explore the causes, symptoms, and treatment options for canine acne to help you better understand this common yet often overlooked skin condition in our four-legged friends.
The answer to the question that whether dogs can get acne is "YES". Dogs, just like humans, can suffer from acne caused by genetics, skin trauma or friction, hormonal imbalances, allergies or improper grooming habits.
Key Takeaways
Symptoms of canine acne include red bumps or pustules on the chin and mouth area with excessive rubbing or scratching.
Treatment options include topical treatments such as benzoyl peroxide and witch hazel; dietary changes including avoiding high-carbohydrate foods and incorporating omega-3 fatty acids supplements; medication prescribed by a veterinarian; behavioral therapy to reduce stress and anxiety that may exacerbate existing breakouts; home remedies such as warm compresses and tea tree oil.
Regular grooming is essential in preventing and treating canine acne while maintaining a healthy diet for dogs is crucial in improving their overall health. Avoiding irritants will also prevent dog acne. Consultation with veterinarians is necessary before administering any medication to your furry friend.
Canine Acne: Understanding The Condition
Canine acne is a skin disorder that affects dogs, causing red bumps or pustules to develop on their skin.
Causes Of Canine Acne
Just like humans, dogs can develop acne due to various factors. One primary cause of canine acne is genetics, making certain breeds more predisposed to skin diseases than others.
In addition to breed-specific characteristics, environmental factors also play a pivotal role in the development of acne in dogs. Skin trauma or friction caused by rough play or constant rubbing against surfaces may result in irritation and inflammation around the chin and mouth area, making them vulnerable to pimples and blemishes.
Another potential contributor could be hormonal imbalances that trigger excessive oil production on your dog's skin.
Regardless of the reason behind your dog's breakout, timely intervention through appropriate treatment options can go a long way toward alleviating discomfort and preventing complications that may arise from untreated canine acne.
Symptoms Of Canine Acne
Symptoms of canine acne can vary, but they often include red bumps or pustules on the skin around the mouth and chin. You may notice your dog excessively rubbing or scratching at the affected area, which can lead to further skin irritation and discomfort.
In more severe cases, you may also observe swelling of the lips or muzzle, whiteheads or blackheads, and even bleeding wounds.
If you suspect that your furry friend is suffering from canine acne, it's important to address these symptoms promptly to prevent any potential complications.
Differences Between Human And Canine Acne
While human and canine acne may appear similar, there are some key differences to keep in mind. For one, the location where acne appears on dogs is usually limited to the chin and muzzle area, while humans can get acne all over their face and body.
Additionally, the causes of acne in dogs differ from those in humans; dogs don't develop pimples due to hormonal imbalances like teenagers do. Instead, things like genetics and skin trauma play more significant roles.
Finally, treatment options for dog acne also differ from those for humans.
Treatment Options For Canine Acne
There are several effective treatment options for canine acne, including topical treatments like shampoos or gels, dietary changes, medication prescribed by a veterinarian, behavioral therapy to reduce scratching and rubbing of the affected area, and home remedies such as oatmeal baths or tea tree oil.
Topical Treatments
One of the common treatment options for canine acne is topical treatments. These are applied directly to the affected area to help clear up the condition. Here are some popular topical treatments:
Benzoyl Peroxide: This is an over-the-counter medication that can be used to treat mild cases of dog acne. It works by reducing inflammation and killing bacteria.
Witch Hazel: This natural astringent can be used to reduce redness and inflammation caused by dog acne. Simply dab some witch hazel onto a cotton ball and apply it directly to the affected area.
Tea Tree Oil: Known for its antibacterial properties, tea tree oil can be mixed with water and applied topically to help fight off acne-causing bacteria.
Aloe Vera: This plant has anti-inflammatory properties that can soothe irritated skin caused by canine acne. You can buy pure aloe vera gel or extract it from the plant itself.
Apple Cider Vinegar: Another natural remedy is apple cider vinegar, which has antiseptic properties that can help prevent infection in pustules caused by dog acne. Mix equal parts of water and apple cider vinegar and apply it topically with a cotton ball.
Remember, while these topical treatments may provide relief for mild cases of dog acne, severe or recurring cases should always be evaluated by a veterinarian to determine if there is an underlying health issue causing the condition.
Dietary Changes
Making dietary changes is an effective way to prevent and manage canine acne. Here are some steps you can take to improve your dog's diet:
Avoid feeding foods that contain high levels of carbohydrates as it contributes to inflammation in dogs.
Incorporate foods rich in vitamins A, C, and E as they are essential for healthy skin.
Include antioxidants in your dog's diet like blueberries and sweet potatoes, however, avoid giving too much fruit as it can contribute to sugar spikes and inflammation
Stick with whole food ingredients instead of processed or packaged foods.
Add Omega – 3 fatty acids supplements to their diet. Fish sources are particularly beneficial!
If you notice a link between certain foods and your dog's acne flare – ups, eliminate them from their diet.
It may be helpful to consult with a vet or a canine nutrition specialist before making any significant dietary changes for your dog with acne problems since some foods may interact negatively with certain medications or have unwanted side effects on their health.
Medication
There are several medication options available for treating canine acne, including:
Antibiotics: If the acne is caused by a bacterial infection, antibiotics may be prescribed to help clear it up.
Anti-inflammatory drugs: Drugs like corticosteroids can help reduce inflammation and swelling associated with dog acne.
Retinoids: These topical medications can help regulate skin cell growth and prevent clogged pores.
Isotretinoin: This medication is similar to Retinoids but is usually used in more severe cases of canine acne.
Immunotherapy: In rare cases where the underlying cause of dog acne is an immune system disorder, immunotherapy may be necessary to manage symptoms.
It is important to consult with a veterinarian before administering any medication to your dog, as some treatments may not be appropriate for certain breeds or ages. Additionally, over-the-counter human acne medication should not be used on dogs without veterinary guidance as it can cause harm to their skin and overall health.
Behavioral Therapy
In some cases, dog acne may be triggered or worsened by behavioral issues. Dogs who are stressed, anxious, or have compulsive tendencies may excessively lick or scratch their skin, leading to further irritation and potential infection.
Behavioral therapy can play a role in managing canine acne by addressing the underlying causes of stress and anxiety. This can include activities that promote mental stimulation and relaxation such as regular exercise and playtime, calming supplements like CBD oil or chamomile tea for dogs, positive reinforcement training techniques, or engaging in calming activities like massage or aromatherapy with essential oils safe for canine use.
In more severe cases where compulsive licking behavior is present, a vet may recommend anti-anxiety medication to alleviate symptoms while working on addressing the root cause of behavioral issues.
Home Remedies
There are various home remedies that you can try to manage your dog's acne. Here are some examples:
Applying a warm compress: Placing a warm, damp cloth on the affected area can help soothe your dog's skin and promote healing.
Using a gentle cleanser: You can clean the acne-prone area with a mild soap or shampoo that is specifically designed for dogs. Avoid using human products as they may be too harsh for your pet's delicate skin.
Adding supplements to their diet: Some supplements, like omega-3 fatty acids and vitamin E, have been linked to healthy skin in dogs. Talk to your veterinarian before adding any new supplements to your dog's diet.
Using tea tree oil: Tea tree oil has natural antibacterial properties and may help reduce inflammation caused by acne. However, it is important to dilute the oil before applying it topically, as it can be toxic when ingested.
Keeping their bedding clean: Regularly washing your dog's bedding can help prevent the spread of bacteria and reduce the risk of reinfection.
Remember that while home remedies may provide some relief, they should not replace veterinary care if your dog's acne is severe or persistent.
Preventing Canine Acne
Regular grooming, a healthy diet, and avoiding irritants are key in preventing canine acne.
Regular Grooming
It is an essential part of preventing and treating canine acne. Keeping your dog's skin clean will reduce the amount of oil buildup on their face, which can contribute to the development of acne.
Grooming can also prevent irritation from irritants like dirt, dust, and debris.
You should also make it a habit to check for any bumps or pimples around your dog's chin, mouth, or muzzle regularly during grooming sessions. Early detection can help in managing the condition before it worsens.
Brushing their coat daily can remove dead skin cells and loose hair that could potentially clog pores and cause acne flare-ups.
Healthy Diet
Maintaining a healthy diet for your furry friend is crucial in preventing and managing dog acne. Feeding your dog high-quality, nutritious food can improve their overall health and strengthen their immune system to fight off skin infections.
Many commercial dog foods contain fillers and artificial ingredients that can contribute to canine acne, so it's best to opt for natural options with limited additives.
Omega-3 fatty acids found in fish oil supplements or fresh fish can also help reduce inflammation and promote healthy skin. Additionally, avoiding table scraps and treats high in fat or sugar can prevent excess oil production on the skin which can lead to acne.
Avoiding Irritants
To prevent canine acne, it is essential to avoid irritants that can cause inflammation, infection or trauma to the affected areas on your dog's skin. Here are some tips for avoiding irritants:
Switch to stainless steel food and water bowls: Plastic bowls can harbor bacteria and contribute to skin irritation.
Use gentle shampoos and conditioners: Avoid harsh chemicals that can dry out your dog's skin.
Keep your dog clean: Regular grooming can help remove dirt, bacteria, and excess oils that may lead to acne breakouts.
Avoid exposing your dog to secondhand smoke: Smoke can be a significant irritant for dogs with acne-prone skin.
Wash your dog's bedding regularly: Dirty or contaminated bedding may harbor bacteria that can trigger an outbreak of acne.
Limit contact with other animals: Dogs who play rough with other pets may be more prone to developing acne due to injuries from bites or scratches.
Choose hypoallergenic products: If your dog has allergies, use hypoallergenic cleaning products and avoid potential allergens in the environment.
By taking these steps, you can help reduce the likelihood of irritating your dog's sensitive skin and prevent discomfort caused by acne outbreaks.
Stress Management
Just like humans, dogs can also experience stress, which can trigger or worsen various health conditions, including acne. Managing your dog's stress levels is crucial in preventing and treating canine acne.
Additionally, pay attention to any changes in behavior that may indicate stress. Signs of stress in dogs may include excessive barking or whining, destructive chewing or digging behaviors, hiding or avoiding contact with people or other pets.
Addressing underlying issues causing anxiety may require working alongside a professional dog trainer or veterinarian to develop an effective treatment plan tailored specifically for your pet.
When To Seek Veterinary Care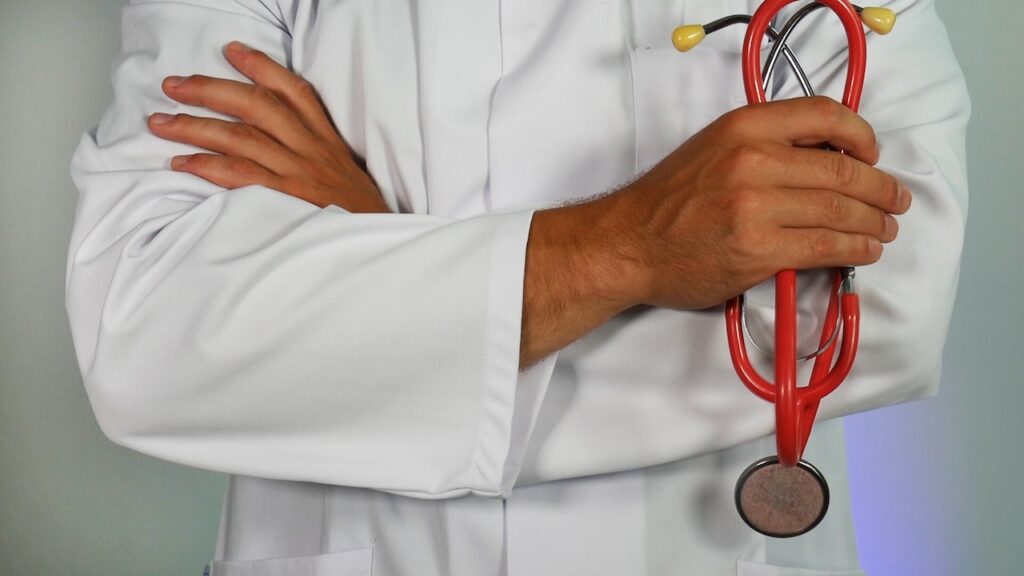 If you notice severe or recurring acne on your dog, underlying health issues, or potential complications such as pus-filled lesions and fever, it is crucial to seek veterinary care immediately.
Severe Or Recurring Acne
If your dog's acne is severe or recurring, it may be a sign of an underlying health issue. In such cases, you should consult with a veterinarian as soon as possible to determine the root cause and appropriate treatment course.
Severe or recurrent acne can cause your pet discomfort and potentially lead to secondary infections. Your vet may recommend medication, topical treatments, or dietary changes to manage the condition effectively.
Additionally, they may provide advice on how to minimize skin irritation around the chin and mouth areas through regular grooming practices and avoiding irritants where possible.
Underlying Health Issues
Dog acne can be a sign of underlying health issues that require veterinary care. In some cases, dog acne may indicate hormonal imbalances or allergies.
Additionally, various skin conditions and infections can cause similar symptoms to canine acne, such as pyoderma or ringworm. It is important to seek veterinary care if your dog's acne persists despite treatment attempts or if it spreads to other areas of their body.
Severe or recurring acne in dogs could also signify an immune system disorder, so it is crucial to address the root cause of the condition rather than solely treating symptoms.
Potential Complications
If left untreated, canine acne can lead to more severe skin infections and complications. Repeated scratching or rubbing of the affected area can cause open wounds that may become infected with bacteria or fungus.
Moreover, if not properly addressed, canine acne may be a sign of an underlying health issue that needs attention. For example, hormonal imbalances in dogs can contribute to the development of acne-like symptoms.
Allergies are also a common cause of skin irritations in dogs that may manifest as pimples or bumps on their skin.
Conclusion And Final Thoughts
In conclusion, it is important for dog owners to be aware that their furry friends can indeed suffer from acne. Symptoms of canine acne include red bumps or pustules on the skin around the mouth and chin, and excessive rubbing or scratching of affected areas.
While most cases of dog acne are mild, it is crucial to monitor and address this condition to prevent further discomfort and potential complications. Treatment options include topical treatments, dietary changes, medication, behavioral therapy, and home remedies.
By taking preventative measures such as regular grooming and maintaining a healthy diet free from irritants, dog lovers can help ensure their pets' skin remains healthy and rash-free.
If you notice severe or recurring acne or underlying health issues in your pet, seek veterinary care immediately.
FAQs:
1. Can dogs really get acne, and what causes it?
Yes, dogs can develop acne just like humans due to overproduction of oil in the skin and bacteria buildup that leads to inflammation. Hormonal imbalances may also play a role in causing canine acne.
2. What are the symptoms of dog acne?
Typically, dog acne appears on the chin and lips as small red bumps or pustules that may be itchy or painful for your pet. In severe cases, hair loss and scarring may occur.
3. How can I treat my dog's acne at home?
You should avoid trying to squeeze or pop any pimples yourself which could cause further irritation or infection. Instead, you can clean affected areas with warm water and mild soap several times a day to remove excess oil buildup while keeping your pet's skin hydrated & healthy using gentle moisturisers formulated specifically for pets.
4. When should I take my dog to a vet for treatment of their acne?
If your dog has severe symptoms such as significant swelling around pimples or difficulty eating/drinking because of pain in their mouth area then you should seek veterinary care immediately.Otherwise moderate severity usually means simple cleaning routines will suffice but if things don't seem to improve after diligent application we recommend contacting veterinarians who specialize in canine dermatology so they can evaluate situation properly & provide appropriate medical advice/treatment options available based upon individual case specifics/needs.
Read More Interesting Articles on Dogs: